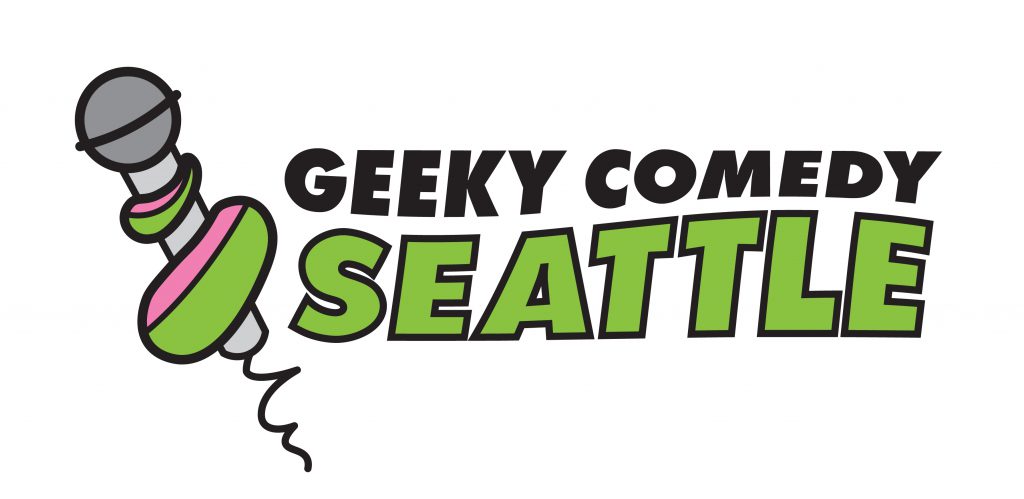 Seattle is a hub for science, tech, gaming, and other geekiness. Geeky Comedy Seattle is a space for geeky comedy, storytelling, music, and spoken word – supporting both new and experienced performers in their endeavors to work on nerdy content.
I organize writer's hours, monthly open mics, workshops, and variety shows (or at least hope to in the near future!). To find out more about future shows and workshops, whether you are interested in taking part or sitting in the audience, you can sign up for the newsletter using this link or contact me with any questions at geekycomedyseattle@gmail.com.
---
Upcoming shows, open mics, and workshops
Geeky Open Mic – First Saturdays; next mic February 4; 7pm
Comedians, storytellers, singers, and poets: come and see the indisputable proof that Nerdy is the New Cool!
This free open mic is a safe space for both new and experienced comedians to try out some new nerdier material. This is a space to experiment (science!) with comedy, songs, the spoken word, or anything really as long as it's geeky! (5 minute sets)
Distant Worlds Coffeehouse is a safe space for geeks of all stripes. Material that is racist, sexist, homophobic, Islamophobic, anti-Semitic, anti-trans, anti-immigrant or otherwise 'punching down' is not welcome.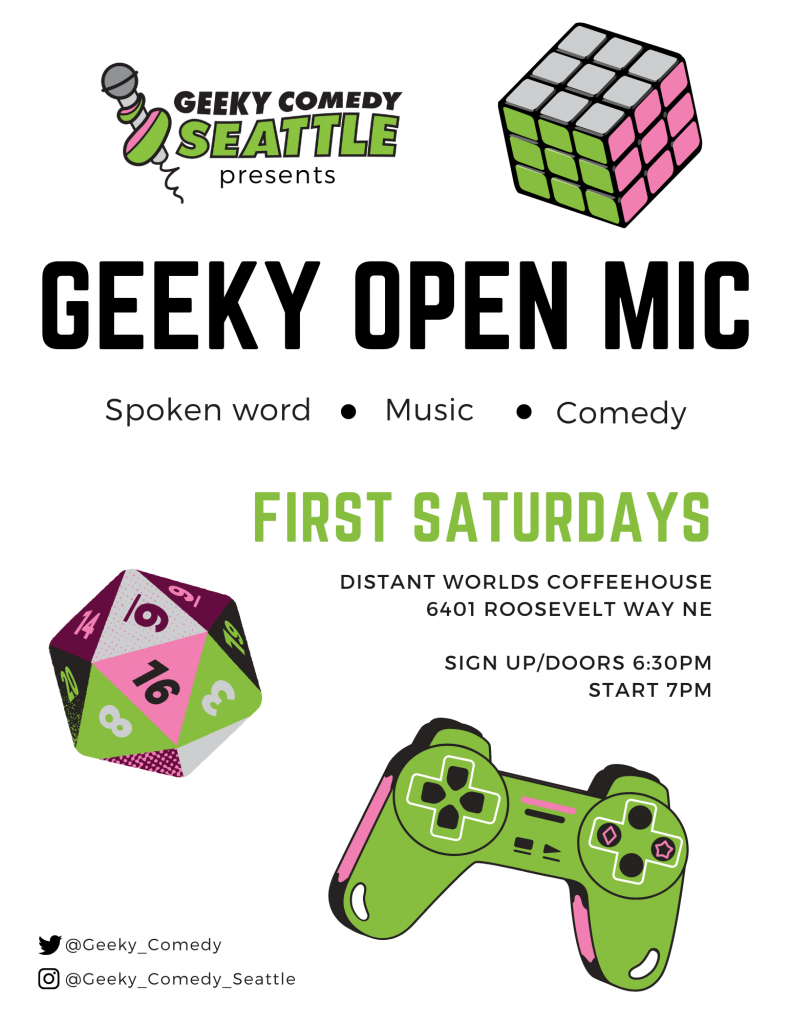 ---
a gaggle of geeks: a Geeky Comedy Showcase –
Line-up:
Hosted by Jenna Nobs
Comedy by Rohini, Silas Lindenstein, Paul Curry, Lucy Tollefson, and Valerie Benti.
Details:
Doors at 8pm, show at 8:30pm
Presale: $10 students/$15 general
Door tickets: $15 students/$20 general
Location: Vermillion, 1508 11th Ave, Seattle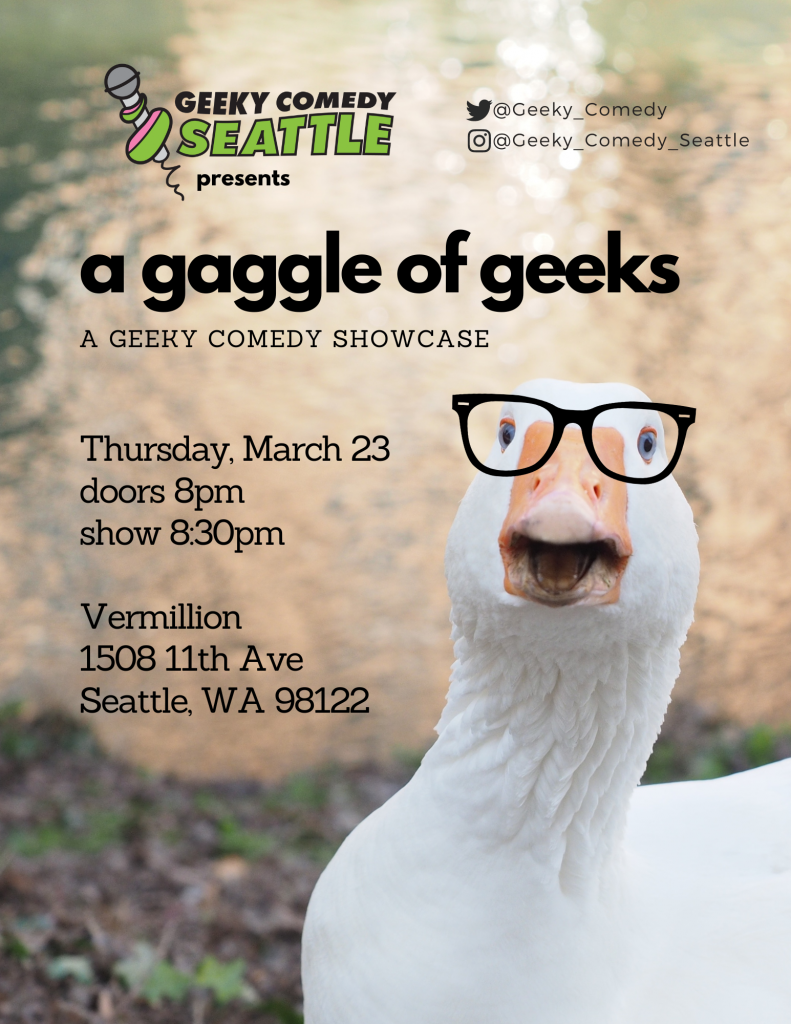 ---
Make 'em Laugh: Geeky Stand-Up Comedy – Workshop at #SciTalk'23 in Portland; April 6&7
We're reprising the workshop, this time catered to science communicators! Open to attendees of #SciTalk'23. Facilitated by Valerie Bentivegna and Theresa Flores.
---
More to be announced soon!
---
Past shows, open mics, and workshops
Make 'em Laugh: Geeky Stand-Up Comedy – Workshop in Seattle; February 24; 4pm
We're reprising the workshop, this time catered to researchers and students! Stay tuned for more details or reach out if you're interested in attending! Facilitated by Valerie Bentivegna and Theresa Flores.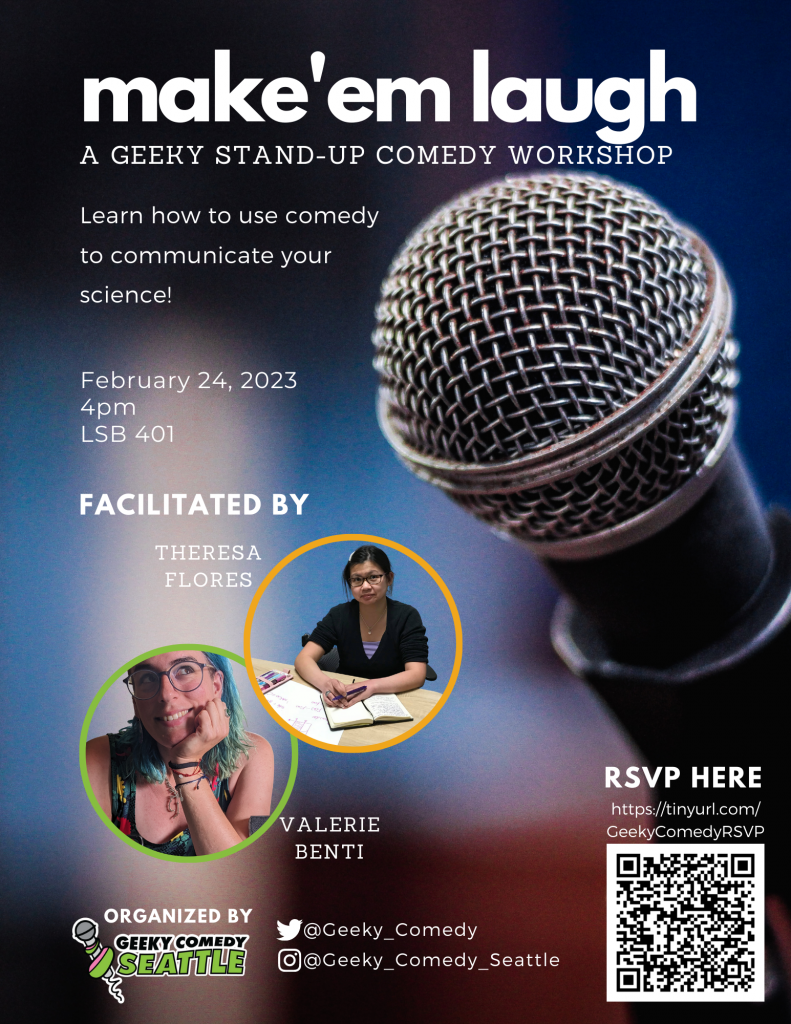 ---
Make 'em Laugh: Geeky Stand-Up Comedy – Workshop at Geek Girl Con; November 5th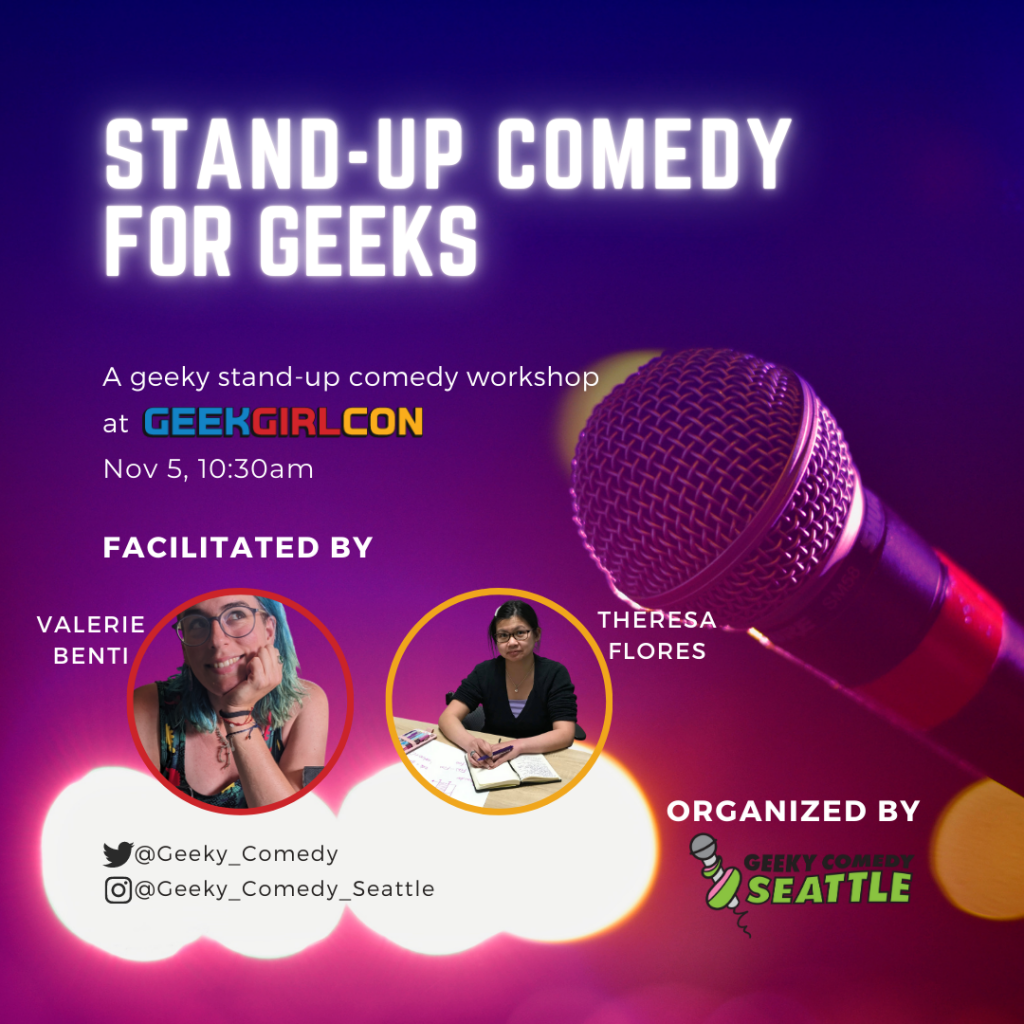 Nerdy is the new cool. In this workshop, you will explore stand-up comedy as a tool to tell personal stories about being in the geek space, whether you work in science or tech, are an avid sci-fi enthusiast, or can go on an endless rant about your favorite fandom. There are many reasons to attend this workshop: whether you want to explore an alternative method of communication, you want to increase your self-confidence by pushing your boundaries, or just have a lot of fun. You will learn how to brainstorm ideas, deliver jokes, have a stage presence, overcome fear, talk through a microphone, and communicate in an engaging and personal way, to eventually improve communication, boost-self confidence, and spark creativity. By the end of the workshop, you will have enough material for your own 3-min stand-up gig at the end of the workshop.
Find out more on GeekGirlCon's schedule
---
SillyCon Valley – A Tech-themed Variety Show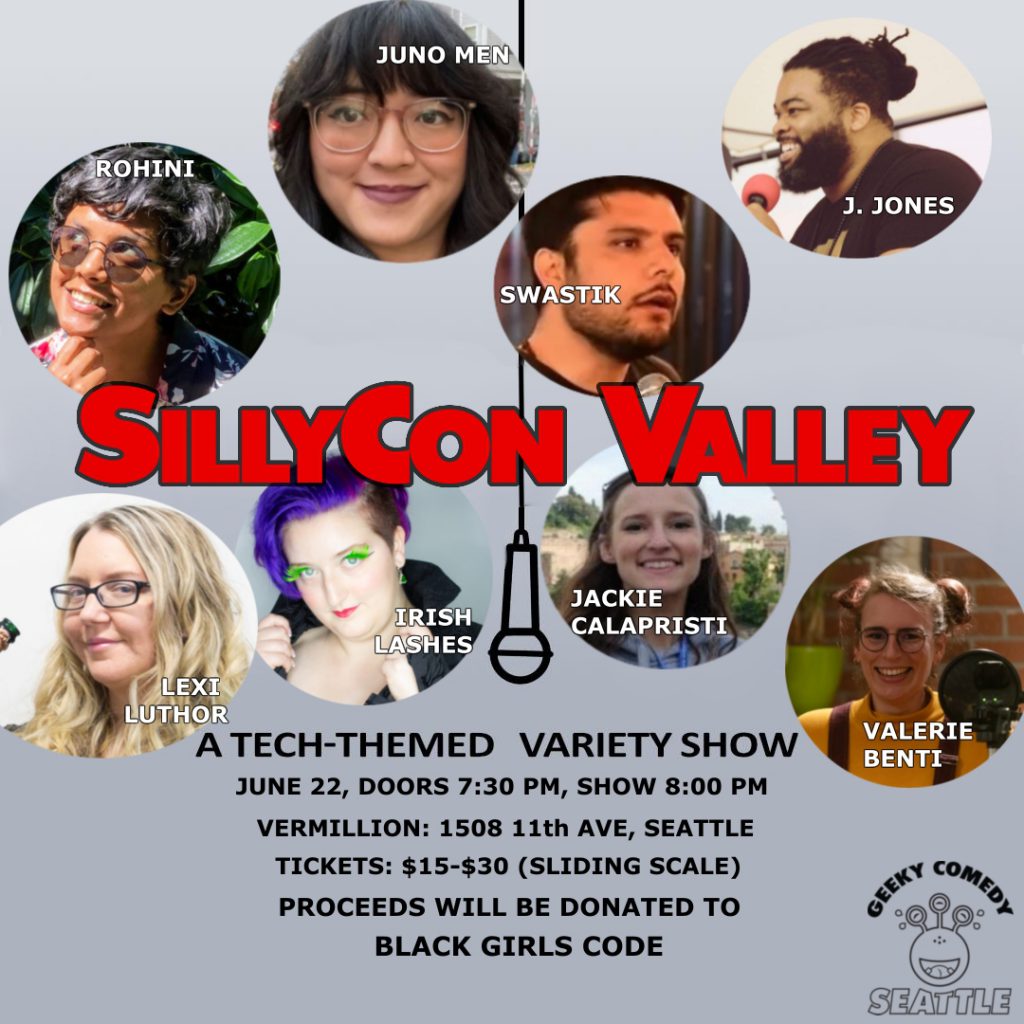 Working in tech can feel like living in a sitcom. So let's just embrace that! Come join comics, musicians, and burlesque dancers poke some fun at tech!
Hosted by J Jones
Comedy by Rohini, Juno Men, Swastik
Music(al comedy) by Valerie Benti, Jackie Calapristi
Proceeds were donated to Black Girls Code.
---
Too Cool For Magic School – July 31st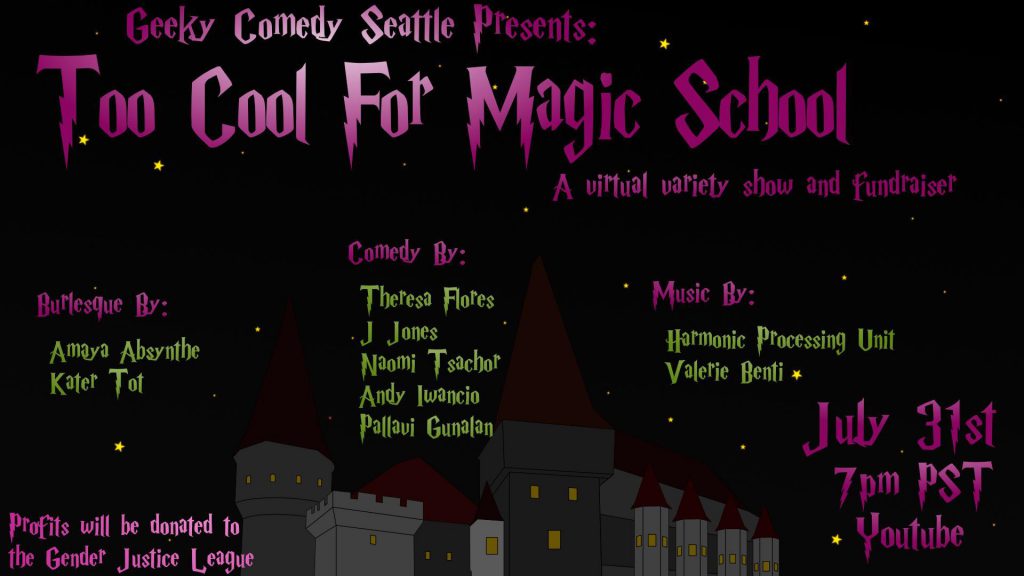 This variety show is for everyone who likes to geek out about magic. For all those who have at some point in their life waved a wand and hoped for some magic to happen. For all those who never got a letter in their mailbox, or through the chimney, inviting them to magic school (let's face it, we're all just too cool).
The show will feature comedy, music, and burlesque performances, and will be live-streamed on YouTube. Watch through the magic of the internet on Saturday, July 31st, at 7 pm PST. The streaming link will be sent at least 2 hours before the start of the show.
All profits will be donated to Gender Justice League, a Washington State gender and sexuality civil and human rights organization headquartered in Seattle, Washington.
Featuring comedy by: Theresa Flores, Naomi Tsachor, J Jones, Andy Iwancio, Pallavi Gunalan
Featuring Burlesque by: Amaya Absynthe, Kater Tot
Featuring Music By Harmonic Processing Unit, Valerie Benti
---
GEEK OUT – The Stimulus Show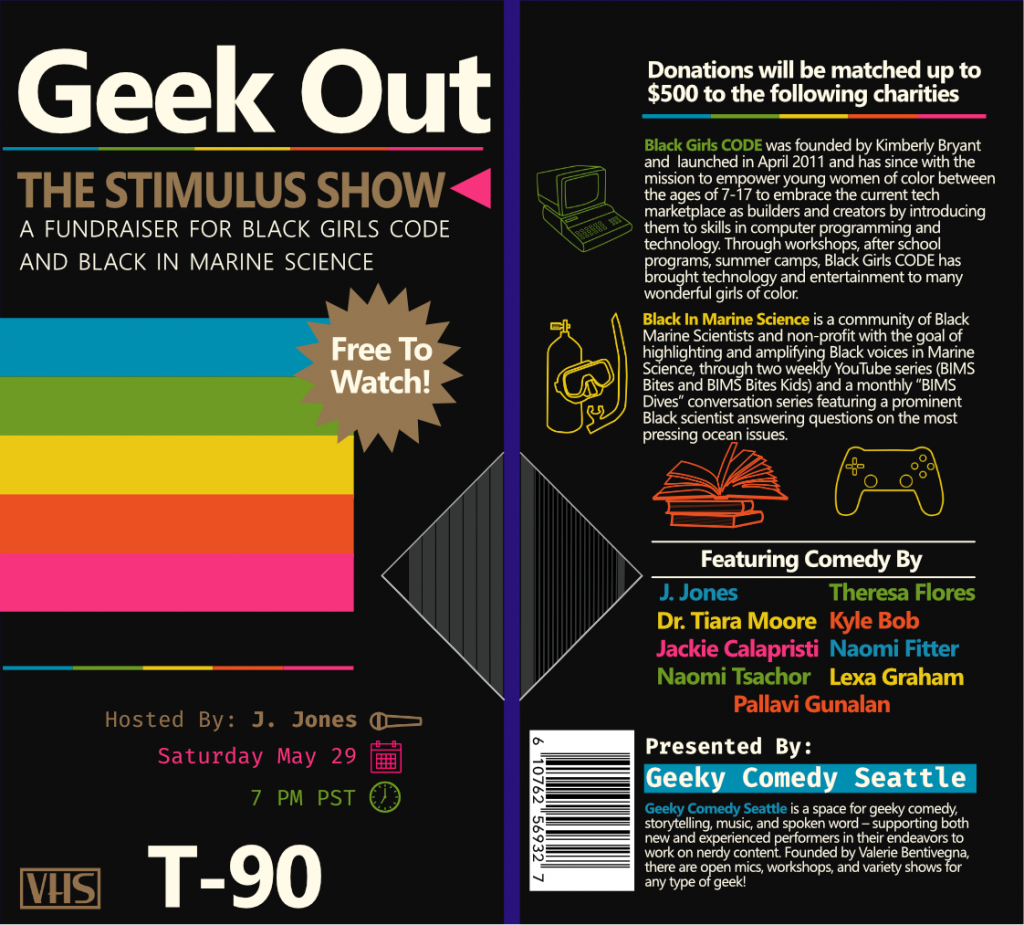 Thank you to all the performers, the audience, and all who donated! Thanks to your generous donations and matching, we were able to donate $636.50 to Black Girls Code and Black in Marine Science, each!
Geek Out! The Stimulus Show was a virtual comedy showcase and fundraiser, took place on Saturday, May 29, was hosted by the amazingly funny and funnily amazing J. Jones (@Adjective_J) and featured an equally hilarious and stellar line-up:
Jackie Calapristi (@JackieJackie121)
Naomi Fitter (@naomi_fitter)
Theresa Flores (@tburger343)
Lexa Graham (@LexaGrammar)
Naomi Tsachor (@NaomiTsachor)
Kyle Bob (@KyleBobKyleBob)
Tiara Moore (@curly_scientist)
Pallavi Gunalan (@PallaviGunalan)
The show also featured music by Stu Evans (RamenBoys), you can listen to the full album Epazant on YouTube!
---
Geeky Comedy Workshop at GeekGirlCon Online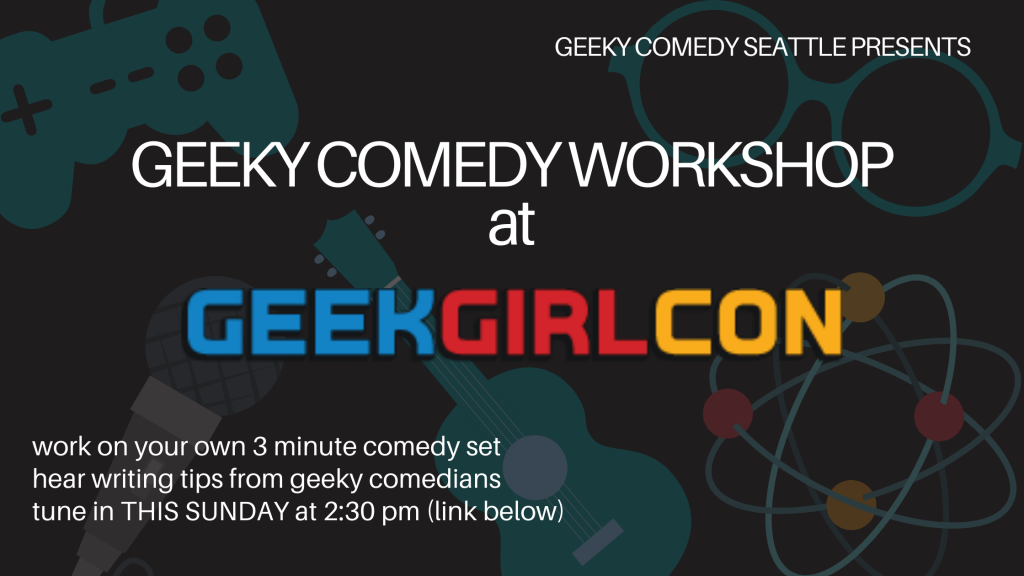 Workshop your own three-minute standup set with comedian Valerie Bentivegna (that's me!) and friends. Laugh and learn along with some hilarious geeky comedians. There is an interactive portion, so we recommend having a pencil and paper ready for this workshop!
With clips and tips from Tiara Moore (@curly_scientist), Theresa Flores (@tburger343), Abner Senires (@abnersenires), Umi Om (@umi_om), Rosemarie Keenan (@romyk) and Jackie Calapristi (@JackieJackie121).
Rewatch the full GeekGirlCONline program
Rewatch the Geeky Comedy Workshop:
Saturday, March 7 – Forth Edition of Geeky Open Mic
Monday, February 24 – Science Comedy Showcase at Science On Tap
Science can be funny! Come hear three scientists – Kaitlyn Casimo, Elizabeth Crummy, and Phil Swan – tell you more about how funny their work is in this special comedy edition of Science on Tap!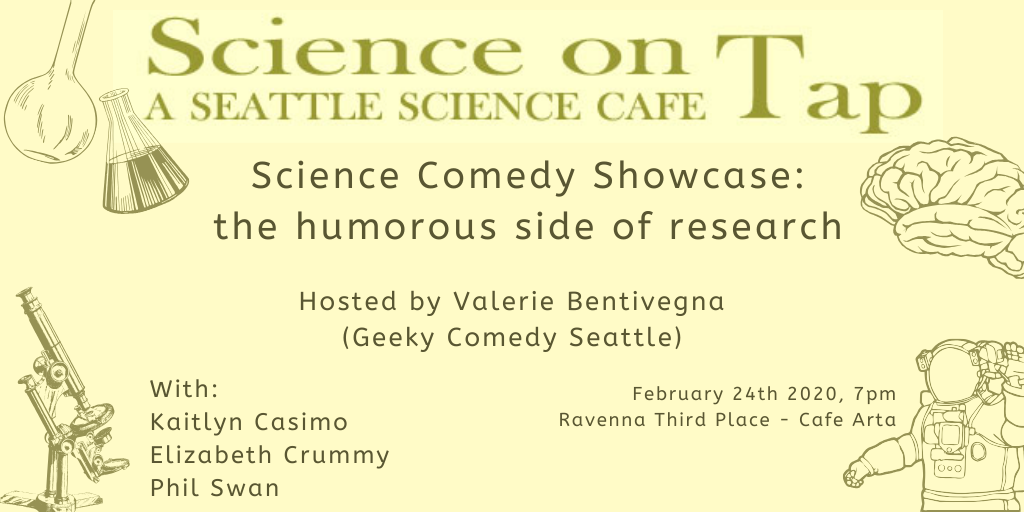 February 14, 15 & 16 – Science Comedy with Dr. Matthew Murtha
Come and laugh with scientist and comedian Dr. Matthew Murtha (Edinburgh Festival Fringe, The Dark Side of Research, Jim Gaffigan, Judah Friedlander) as he uses comedy and conversation in this hysterical one hour program to reveal the life of researchers beyond the stereotypes. Featuring headline news from the latest in research and tech, anecdotes from the life of a researcher, and diverse guests sharing their experiences as a scientist, this show will make you laugh and learn!
This event was hosted by Valerie Bentivegna (Bright Club, Edinburgh Festival Fringe, GEEK OUT!), and featured a different special guest every night: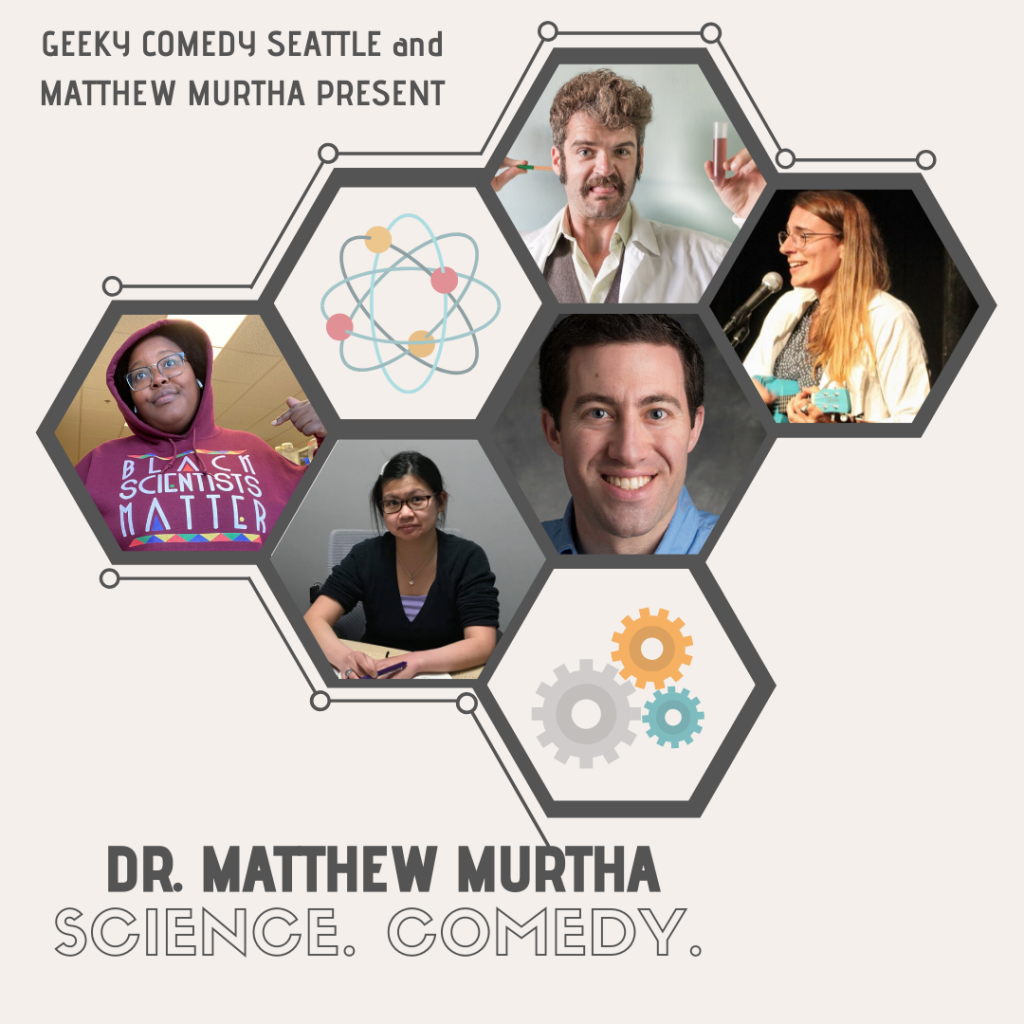 Saturday, February 1, 2020 – Workshop and show at Nerdfaire 2020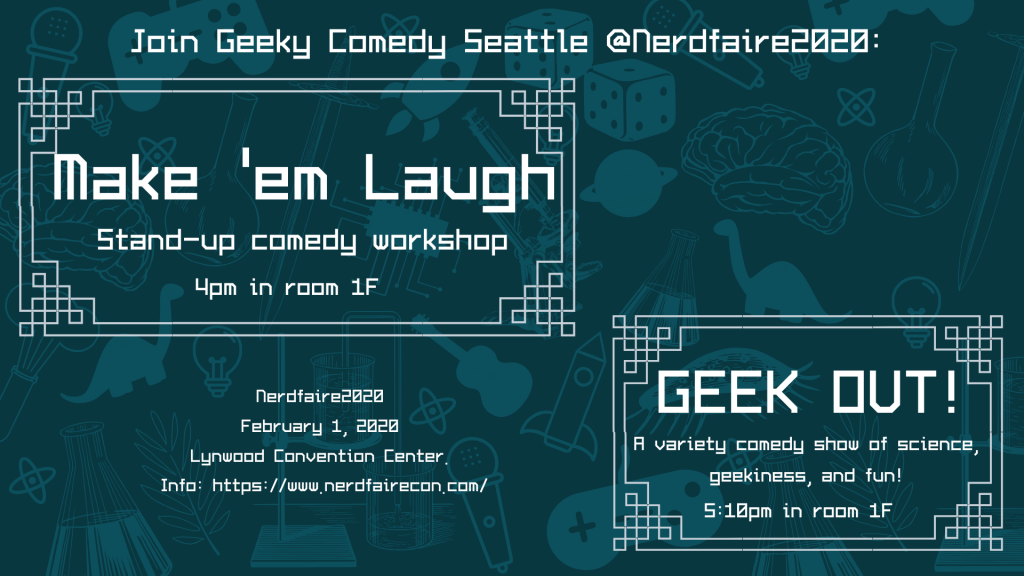 Saturday, February 1, 2020 – Third edition of the Geeky Open Mic
Saturday, December 7, 2019 – Second edition of the Geeky Open Mic With special guest Winlar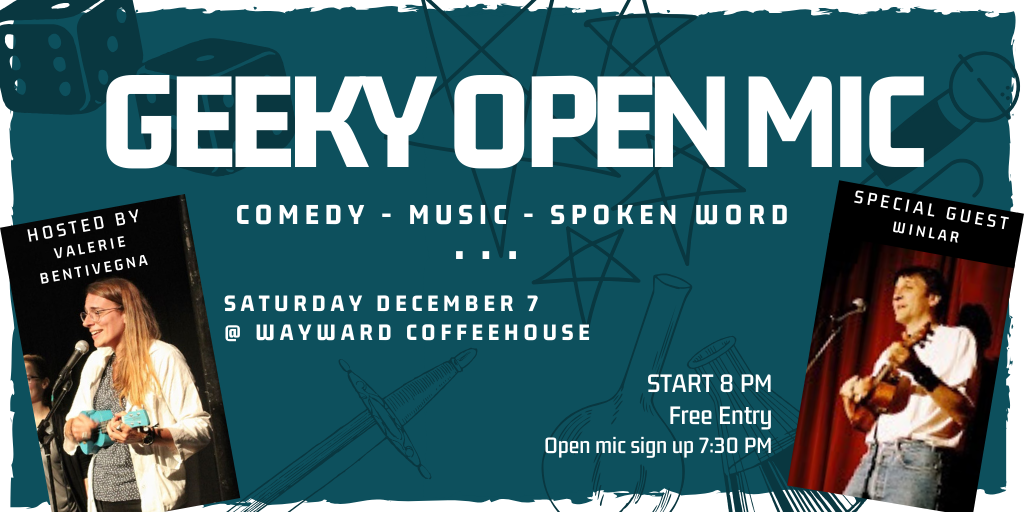 Saturday, November 16, 2019 – GEEK OUT!
GEEK OUT! is an educational comedy variety show highlighting the fun(ny) side of research! The show is inspired by the often hilarious and bizarre world of STEM, providing a unique insight on research life and culture and promoting the idea that a scientist can be anybody and everybody! This show, featuring songs, standup, and comedic storytelling, will make you laugh and learn!
The first edition took place on Saturday November 16, 2019 at Big Time Brewery. Hosted by science comedian Kyle Marian (The Symposium: Academic StandUp, Asian AF NYC, Woke AF, Edinburgh Festival Fringe, UCB), featuring performances by Valerie Bentivegna, Valentina Ferro, Tara Christian, Winlar, and Andy Iwancio!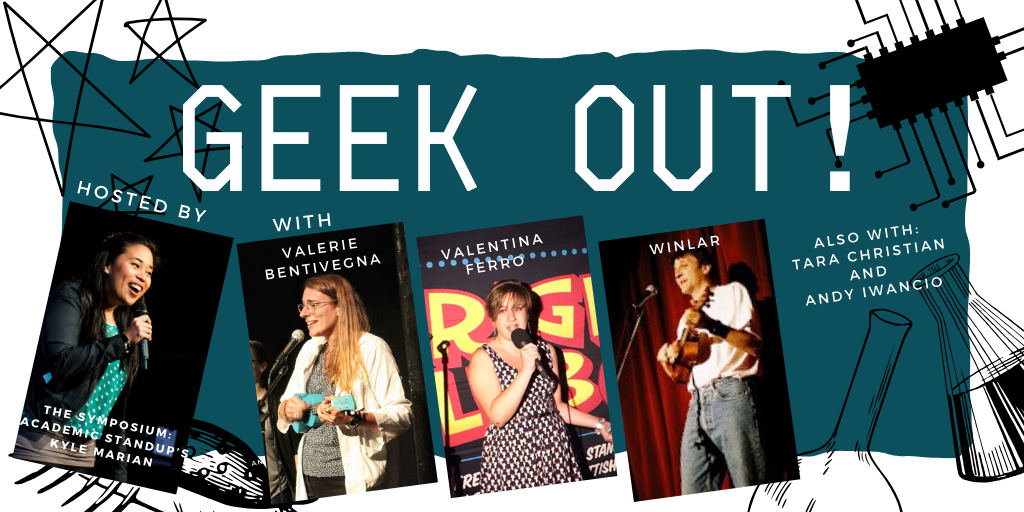 Saturday, November 2, 2019 – The very first Geeky Open Mic at Wayward Coffeehouse