Throughout the past two years, I've colored my hair several times, leaning in extra hard on my manic pixie dream girl persona – I'm just quirky like that. At the moment, my hair is green. With this new color, I thought it'd be fun to dive a little deeper into the hairy world of… well, hair.
That means that over the course of a year, your hair might grow somewhere between 10-15 cm (or 5 to 6 inches, ish). Which, if you're trying to grow out your hair, seems slow. On the other hand, if you're trying to maintain bangs, it's really fast.
Fun fact: that means it took Cousin Itt about 8 years to grow their hair, assuming their hair grew at the speed average for humans – so who knows – and taking into account that the actor that plaid Cousin Itt was just under 4 ft tall.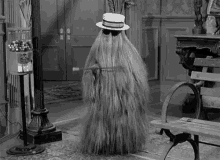 But don't worry, at that same time about 99,900 other hairs are happily growing along. On average we have 100,000 hair follicles on our scalp, all there at birth (which is why usually children have denser hair – our scalp expands as we grow older).
Follicles don't all grow hair at the same time: in fact, hair just grows for a few years, before the follicle decides to take a little break. That's when the hair in the follicle falls out. Because all your follicles take turns, you typically won't halve all 100,000 of your scalp hairs fall out at once, so you won't notice losing hairs.
That said, some follicles stop growing hair as you grow older, which is why some people get thinner hair when they get older (or go bald).
3. Hair loss and stress are related
On that note, high stress levels may cause hair loss. There are a few conditions associated with increased hair loss, including telogen effluvium (where stress causes large number of hair follicles into resting phase, see point 2), alopecia areata (a condition in which the body's immune system attacks hair follicles, causes may include severe stress), and trichotillomania (the urge to pull out hair, which for some people is a way to deal with negative feelings).
4. Most of your hair is dead
Hair grows from your follicle out, with new cells rapidly dividing in the root, pushing previously formed cells in the hair strand out of the follicle. The cells forming hair are the second-to-fastest dividing cells in your body (after cells in your bone marrow), which is why people undergoing chemotherapy sometimes lose their hair: chemotherapy targets rapidly dividing cells.
By the time your hair is at the skin's surface, the cells in the hair strand aren't alive anymore. So all the hair you see on your body is already dead! The hair shaft is made out of a protein called keratin, which is the same protein that makes up your nails, feathers, horns, claws on hooves. Well, maybe not yours.
While on the topic of death (also, it's Halloween), it's a common misconception that hair and fingernails continue to grow after a person dies. This is untrue, though it may seem like hair and fingernails appear longer after death: after a person dies, their skin and soft tissues dehydrate causing shrinkage.
Cells stop deviding when they die, and that counts for hair cells as well. I guess that means Vampires should be really sure about cutting their hair!
5. The record for longest hair is 5.62m (18 ft 5 in)
Scalp hair actively grows for two to six years (oh, there goes my Cousin Itt estimate), depending on the person. That's why some people have a hard time growing their hair long, while others have a really long active phase of growth and can get those long locks.
The record for longest hair is held by Xie Qiuping, who started growing her hair in 1973 when she was 13 years old. Math tells us her hair grows a bit faster than usual (about 18 cm/year), and her active hair growth phases are just, non-existent?
In any case, over 5 meters is really impressive. It's more than twice the height of André the Giant impressive. Or as long as a giraffe is tall impressive. And we all know that's pretty impressive to me.
Hair on other places of your body, such as your arms, legs, brows, has a short active phase growth of one month to one month-and-a-half, before falling out. That's why that hair is so much shorter. Though some impressively long eyebrow hairs have been known to exist.
---
There, we've learned some facts about hairs. In a convenient listicle format. Maybe someday I should make a listicle about the effectiveness of listicles?