I feel like I haven't emphasised the "bagpipe"* aspect of this blog a lot, so a short thought-train on Scotland, for a change:
I remember interviewing for the job here, and a professor that had lived his in California before moving to Dundee, told me that the Scottish weather is exactly how it's always portrayed: dreary. However, a Dutch professor assured me that it wasn't too bad. I concluded that it's just a matter of what you're used to and that I'd probably do just fine.
Additionally, I have been told over and over again that Dundee is the sunniest city in Scotland. I started to consider myself Dundonian enough to claim the same someone asks me about Scottish weather (maybe unsurprisingly, this is one of the first questions I'm asked after telling people that I live in Scotland). I usually say something along the lines of "Well, I live in the sunniest city of Scotland you know, though that maybe doesn't mean that much," and then proceed to the most recent analogy I have conceived; It's like saying "the best american chocolate" (well, I guess if you consider Hershey's chocolate…) or "the best glass of Heiniken I've ever had" (yeah, best glass of water you mean?). After that, I usually add: "But seriously, it's really not that bad."
So I just spent an extensive 5 minute web-based research trying to confirm that Dundee really is the sunniest city of Scotland.
There are claims that Glasgow is the sunniest city, I found another article saying Aberdeen has the most hours of sunshine. The ever trustworthy wikipedia indeed says that Dundee is the sunniest city in Scotland [citation needed], so that doesn't help much either. Other sites make similar (unverified) claims. A weather site tells me that Dundee has 1426.3 hours of sunshine each year, which is 0.3 hours more than Edinburgh and about 200 more than Glasgow. However Aberdeen had an average of 1435.7 hours between 1981 and 2010, according to the same site. (I didn't look any further.)
So have I been telling lies? Do I not live in the sunniest city in Scotland? It is clear that the East coast is the place to be, if you do happen to end up in Scotland for whatever reason, and it is also clear that you have to be prepared for every single type of weather (or season) within a day, so dressing in layers and having an umbrella on standby are musts.
In the end it doesn't really matter. I took my refurbed bike for a first test drive the Sunday before last to Broughty Ferry. It was lovely weather for a 5 mile trip to a lovely beach. I encountered a Finnish cyclist, who had just embarked on a 4-week bike tour of Scotland, I think this was his day two. We both got lost at the same point (apparently the solution to opening to locked gate on our path was ringing the bell), and once we got back on track – national cycle route 1 -, we started chatting. As we split paths (mine led to locking up my bike and getting my feet icy cold wet), he said he was in heaven.
I'm sure that the fact that the sun was shining that day and that it was a pleasant 20-something degrees worked in favour of this sentiment, but I have to say that I was enjoying myself quite a lot as well. I'm definitely looking forward to my next bike outing. I probably wait for the next weekend that the sun is out, and cycle off into my own little bit of heaven.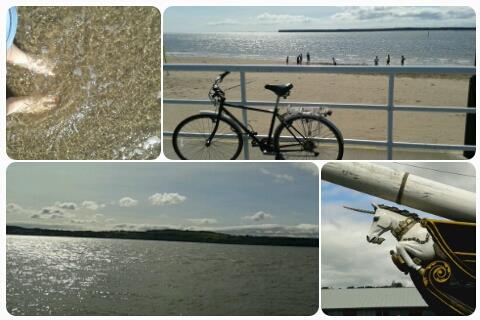 *The tagline used to be: Science, bagpipes, and hopefully a few "Eureka's"